Search Text
Given a line of text, write a function that searches for all occurrences of a given word.
> Click or hit Control-Enter to run the code above
Before we can talk about web APIs, we first have to talk about the web…​

…​and before we can talk about the web, we have to talk about the internet.

Which is great, because I love the internet!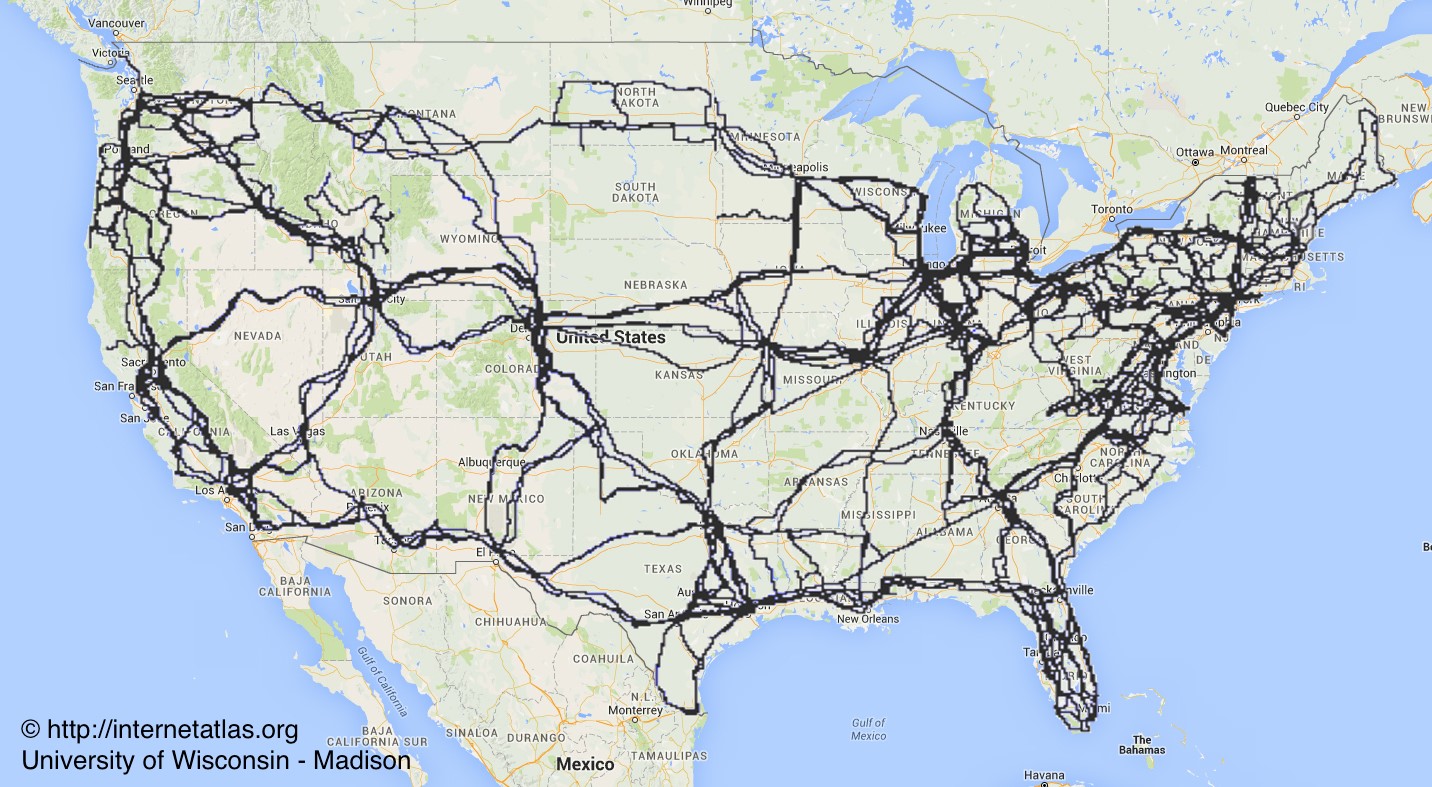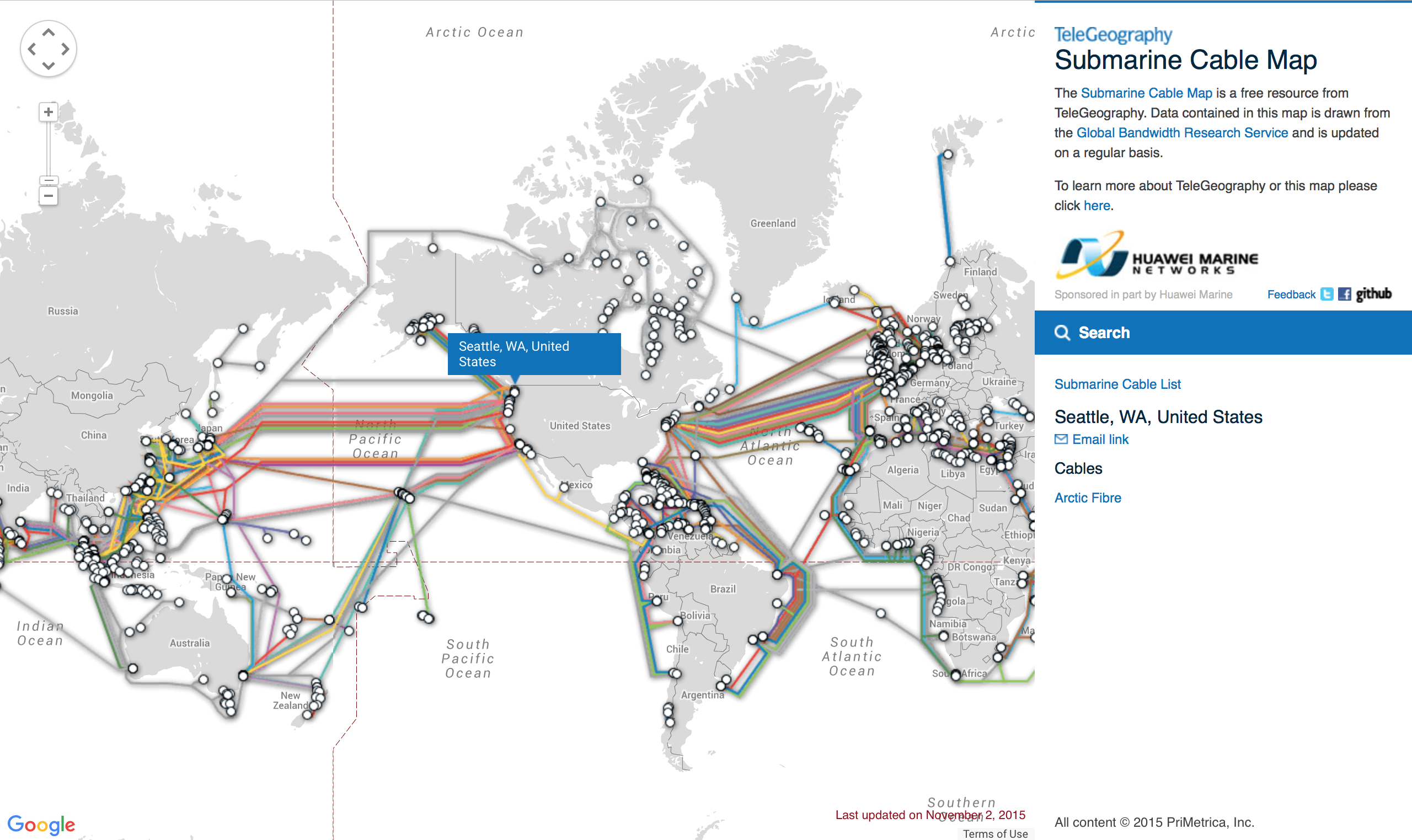 Internet As Wired Infrastructure
The internet comprises an enormous amount of physical infrastructure.
Most of it is wired, not wireless. Wireless is mainly used for the first hop.

Most of it is fiber (glass), not copper. Signals degrade quickly in copper but travel faster and with less attenuation in glass 1. Copper is only used for the last 100 meters.

The internet wouldn't exist without fiber optic cable. It's one of the wonders of the modern world. It's not just glass, it's really clear glass.
An Internet Journey
If you want to learn more, you can join me as we follow a cable from my former office to the edge of our campus network.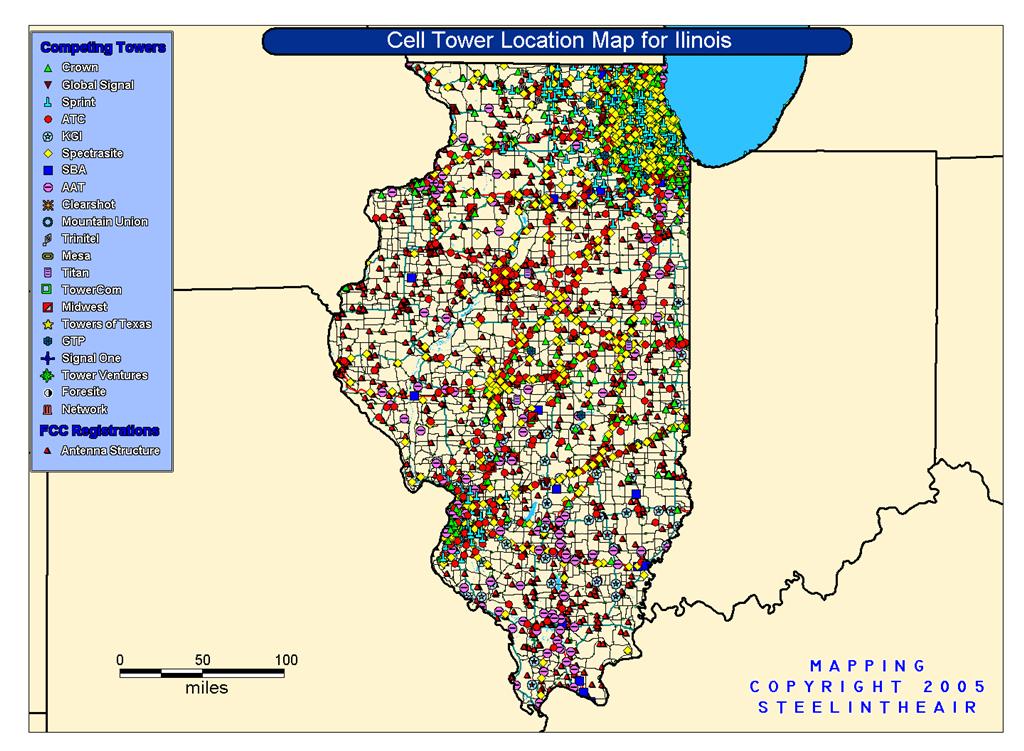 Internet As Wireless Infrastructure
In recent years we've also built out a huge amount of wireless internet infrastructure.
Short range wireless is dominated by WiFi and what you use when you're on campus, at home, or at a coffee shop

Medium-range wireless is used to provide connectivity to mobile devices like smartphones over longer distances. You usually buy this from a cellular provider like Verizon or Sprint.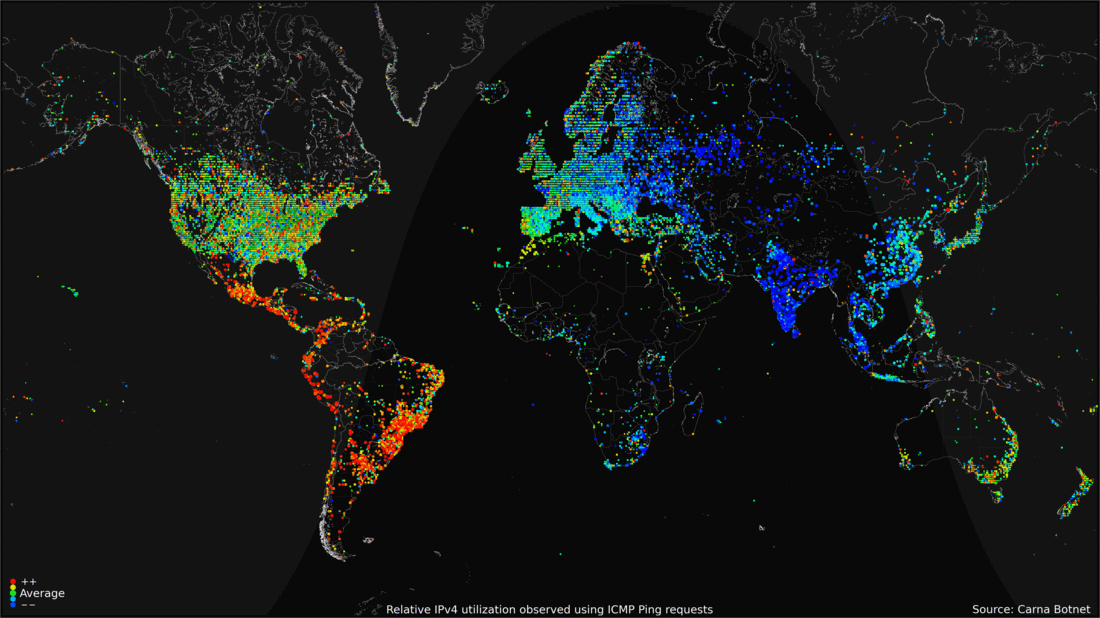 Internet As Connectivity
The result is that by connecting a computer to the internet, you are now connected to 4 billion other computers.
Many times the first connection is wireless

But after that point there is literally a wire that you can follow from your computer to the other computer
But How Do Internet-Connected Devices Communicate?
Internet As Agreement
A communication protocol is a system of rules that allow two or more entities of a communications system to transmit information.
The Internet Protocol (IP)
The Internet Protocol (IP) consists of a series of agreements that allow internet-connected devices to communicate.
What do we call each other? IP specifies the format of internet protocol addresses, also called IP addresses.

Here's one: 192.17.96.8 (IPv4)

Here's a new one: 2607:f8b0:4009:807::2004 (IPv6)

How are our message structured? IP specifies a format for each message (or datagram) exchanged across the internet.
IP Datagram Format
The Miraculous Internet
The core internet protocols were invented by a bunch of graduate students, including Vint Cerf and Bob Kahn. They changed the world.
Vint Cert has said "we kept wondering when the adults were going to show up."
So We Can Talk, But About What?
So The Web Is Not The Internet
The web is just one of many services running over the internet.
What is the World Wide Web?
HTTP: GET Request
HTTP defines how web browsers request (GET) content:
GET /lecture-webapis-examples/simple.html HTTP/1.1
Host: cs125-illinois.github.io
GET Parameters
You can send some data to the server in a GET request using query parameters.
These follow the path and an ? sign in the URL

Each takes the form key=value

Key-value pairs are separated by & delimiters

Here's an example: search?safe=off&source=hp&q=cs125:

safe=off

source=hp

q=cs125
HTTP: GET Response
If the request succeeds, the server responds with something that looks like this:
HTTP/1.1 200 OK
Date: Sun, 08 Apr 2018 08:56:53 GMT
Last-Modified: Sat, 20 Nov 2014 07:16:26 GMT
Content-Length: 44
Content-Type: text/html

<html>
  <body>
    ...
HTTP: POST Request
HTTP also defines how web browsers submit information (POST):
POST /lecture-webapis-examples/simple.html HTTP/1.1
Host: cs125-illinois.github.io

text=word
Note that this fails on github.io because it only serves static pages and doesn't deal with data provided by users.
HTTP: GET and POST
HTTP defines many other types of requests, but GET and POST are by far the most common.
Every time you load a web page it starts with a GET, and usually that's followed by many other GET requests to fetch others parts of the page: style sheets, images, JavaScript code.

Every time you submit a form it uses a POST to send data to the server, at which point your Facebook comment is recorded, or your credit card is charged and an package starts its way toward your house
HTTP: GET v POST
The HTTP protocol specifies different semantics for GET and POST:
GET should not change anything about the world, just return a document

POST should change something about the world—create a new account, pay your bill, purchase something, send a message, etc.

As a result it is safe to repeat a GET but potentially problematic to repeat a POST: hence the "Do not click back" and "Do not submit this form twice" kind of warnings.
Announcements
We've posted some MP6 errata. Please follow these screencasts if you are having a hard time getting your environment set up.

The anonymous feedback form remains available on the course website. Use it to give us feedback!

My office hours continue today at 11AM in the lounge outside of Siebel 0226.